The Filipino Family – Blessing or Curse
As I wrote many years ago in my debut publication; 'Philippine Dreams', when you marry a Filipina, you marry into an extended family of literally hundreds of people. I remember the guest list for our wedding reception never really existed in a form you or I might recognise. The list my bride to be showed me had maybe twenty names on it. I was rapt! This would be a very inexpensive event, right? Wrong!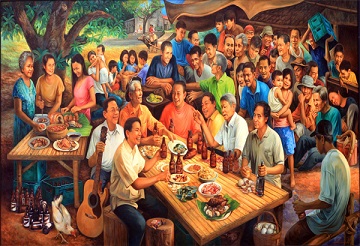 Wed, Fed And Off To Bed In 40 Minutes
Actually, as wedding receptions go, especially given the original estimate to the caterers of forty to fifty eventually doubled; it wasn't at all expensive and everyone was well taken care of. Nobody went hungry, thirsty or, for those who stayed past the first hour, sober. I was touched by the numerous members of the family (maternal side) that hung back in the shadows, too shy to come forward and enter the venue. I rounded them up personally and welcomed them, made sure they were seated and served. They were the last to be seated and yet the first to leave, unaccustomed as they were to formal weddings and large feasts. Everyone ate their share and left with their little doggie bags of pancit and lechon; a custom I would see repeated many times over the coming years whenever we had open house and a lechon baboy (spit-roast pig).
The paternal side of the family didn't stay much longer, either, although they are considered the more educated and experienced side. While the maternal side are all fisher folk and farm hands, the paternal side have lots of seamen and overseas domestic helpers among their ranks. Any problems we have had over the years have usually been from the paternal side in the ratio of about 3:1, not that we've had many. The odd dodgy land sale, pushy demand for a 'loan', disappearing Tanduay at a party but nothing too serious. One maternal relative, not by blood but marriage, has taken a bite out of a favourite aunty but other than that, nothing too problematic.
Don't Be Mr Fixit
One thing I was advised not to become, is Mr Fixit. It is easy to fall into the trap, more so if your new relatives are the clingy, suck you dry type. Mine aren't, so I am lucky but some blokes do inherit a lot of hassle when they marry. It is easy to be seen as rich, simply because when you are on holiday there you have money to spend and you can spend a lot of peso without spending a lot of dollars. When you live there you soon get a local's perspective on the value of a peso and those P100 tips, just $2.50 to you before, are no longer happening. P100 buys a lot of San Migs from the sari sari store or supermarket, even if it won't buy two at the bars you used to frequent when single.
Your relatives got by before their niece, daughter, sister or cousin got lucky and found her Kano. If you weren't around they would still have the problem and have to resolve it, which they would. All you and your money is doing is making it easier and quicker to sort out. Sadly, it will usually come back and haunt you because if the word gets around, it won't be long before another problem needs your 'expertise'. And you have hundreds of new problems, I mean relatives, remember? I'm lucky; my immediate family are lovely and my asawa doesn't let anyone else near me when we are there on holiday. I learned my lesson when we lived there and now if anyone ever asks, subtly drops a hint or somehow makes it known they have a problem… I purse my lips and point at my asawa and they get the hint. They know there is no way they'll get far with her!
Perry Gamsby, D.Lit, MA(Writing), Dip.Bus, Dip. Mktg is a writer and lecturer who lives with his Cebuana wife and five Aus-Fil daughters in Western Sydney. The author of a series of best-selling 'self-help' books for expats and those married to Filipinas, he is also a Master of Filipino Martial Arts and a former World Stickfighting Champion who has lived, worked and vacationed in the Philippines since 1988. Perry and his family return to the Philippines on a yearly basis.