The Big Trip Back
When do you make 'The Big Trip Back'? That is, the first return trip to the Philippines after going through all the trouble and expense of getting your Filipina to Australia. Do you do it after one year? After two? Five? Sooner? Never? I don't think there is any set time limit, it depends on the individuals involved.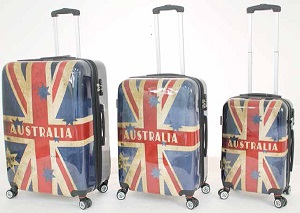 We Waited For Five
We migrated to Australia in 2005, so this August the 27th it will be the tenth anniversary of our landing at Sydney Kingsford Smith International Airport. There we were: me, the asawa, two little kids, five suitcases and four thousand dollars to our name. We had left all out worldly goods back in Cebu and apart from a few items I'd left in storage with my parents four years earlier when I had migrated to the Philippines after our wedding… that was it.
Five years later we had five kids, a house, land in the country, the asawa could drive and held a shiny new Aussie passport and it was time to take The Big Trip Back. We had sent a Balikbayan box full of stuff ahead of us and now was the time to travel back and let the barangay know how well one of their daughters had done.
There's A Lot To Take In
When we arrived in Sydney we had agreed we would give it five years before going back. This would be enough time to settle in and achieve something. I have seen a lot of Filipinas pining for home and heading back within the first twelve months. They then get into a groove of regular, and that could mean twice or thrice yearly, trips back to their province. For some it is a reflection of the marriage. We had been married for three years and living in the Pinas when we moved to Sydney. I can imagine it would be more difficult for some to settle in when they have to get used to a new husband as well as a new country and without the benefit of help from anyone but his relatives.
Sometimes his relatives are of no help, even hostile to the Filipina and she can feel very isolated and alone. But is rushing back the right thing to do? One couple we knew for a while had lived together in the Philippines, but once in Australia the husband insisted she never eat with her fingers, always used a knife and fork and not spoon and fork and forbade her speaking in Filipino to their child. He said it would help her settle in and adjust to our society. I said it was a form of domestic violence in a way. Eight years on they are still together, still haven't been back but the relationship is certainly not a harmonious one.
The Big Trip Back needs to be taken. Get it over and done with, but not too soon and yet, don't leave it too long. For us, five years was perfect. We went back again three years later but have no plans to go a third time next year when the next three years are up. Asawa is happy with her life here, although she does miss having her own family around at times. We are looking more at spending our vacation dollar touring Australia, maybe getting her parents over to travel with us. For us that's better value than yet another trip home, pasalubong for everyone and too much time spent sitting around the same barangay she grew up in and couldn't wait to leave. But your mileage may vary.
Perry Gamsby, D.Lit, MA(Writing), Dip.Bus, Dip. Mktg is a writer and lecturer who lives with his Cebuana wife and five Aus-Fil daughters in Western Sydney. The author of a series of best-selling 'self-help' books for expats and those married to Filipinas, he is also a Master of Filipino Martial Arts and a former World Stickfighting Champion who has lived, worked and vacationed in the Philippines since 1988. Perry and his family return to the Philippines on a yearly basis.