Driving in Holy Week
One of my favourite times in the Philippines has to be Holy Week, Easter to us. It is a very special time for the locals because nearly everyone is a Christian of one denomination or another with just 5-10% Muslim and 5% Animist. You will meet very few Agnostic Filipinos and even fewer who make it known they are Atheist. Given the very real power the Catholic Church still wields over the society, it is not surprising everyone claims an affinity to one sect or another, but Filipinos are naturally very devout people.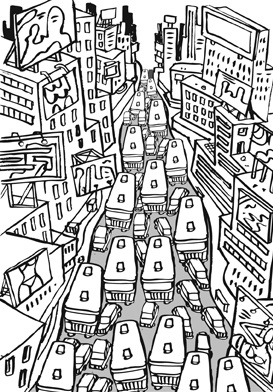 Traffic Heaven
I used to work for UTP, the people who make the tourist maps and every Holy Week we would seize the opportunity to update the maps for Manila and Makati. It was the only time you could plan to do the updates and be certainty he streets would be virtually deserted. Traffic in Manila is horrendous at the best of times and driving around at midnight means you can easily miss changed street signs and other things you have to take note of for the next edition of the map.
There are two other times when you can be pretty sure Manila's traffic will stay home: the calm before the typhoon strikes and during a Manny Pacquiao fight. It is like a scene from a dystopian future apocalypse movie, or whatever the genre is. Very, very few vehicles on the streets and even fewer people on the sidewalks. Makati especially, being a business centre, is really devoid of life. The biggest crowd will be gathered around a camera crew doing a shoot for a movie or TV show, they like the deserted city look, too.
Never Alone For Long
In the province the roads will be pretty empty, also. If you leave Manila at peak hour of the last working day, or even early the following morning it will be the usual public holiday exodus you see anywhere. I know trying to head north out of Sydney on Thursday evening is pointless and in Manila the two main arteries; North and South Luzon Expressways, are no different. The further from the capital you get, the thinner the traffic gets and by Good Friday (Thursday is a holiday there) you are the only car on the road often times.
One trip we headed south to Lagazpi taking some roads along the Pacific coast that were stunning, yet very isolated. Cliff side winding roads overlooking crashing surf and ocean to the far horizon, yet eerily for such a usually populated place… nobody. We broke down on one lonely stretch with no sign of human habitation for miles but strangely enough, within ten minutes people just materialized, offering to help and telling us how far we were from the next town. We knew where we were, we were on a mapping expedition after all, but it was great to know there were people around willing to give a helping hand. We got the car going ourselves and carried on but I can still see that lonely stretch of Cliffside highway in my mind's eye. I guess no matter where or when, you are never alone for long in the Pinas… and that's a good thing, don't you think?
Perry Gamsby, D.Lit, MA(Writing), Dip.Bus, Dip. Mktg is a writer and lecturer who lives with his Cebuana wife and five Aus-Fil daughters in Western Sydney. The author of a series of best-selling 'self-help' books for expats and those married to Filipinas, he is also a Master of Filipino Martial Arts and a former World Stickfighting Champion who has lived, worked and vacationed in the Philippines since 1988. Perry and his family return to the Philippines on a yearly basis.